Knowing how to buy land in Texas is essential if you want to invest in the second-largest state in the nation. Texas has unique opportunities for land investors, but it also has real estate laws that buyers need to consider.
With so much land available, property types vary greatly depending on the region. The state's northwest region features plains and low mountains, while the southeast consists of flat coastal plains. Due to the contrast in topography, the elevation of land in the Loan Star State ranges from sea level to 8,749 feet above sea level on Guadalupe Peak, the highest mountain in the state.
Land attributes aren't the only factor you need to consider when purchasing land in Texas. You also have to know how to finance land, where to find properties that fit your needs, and what to verify before closing.
So, to learn how to buy land in Texas, look at our comprehensive guide with steps for purchasing your first piece of property, top land purchase and farming lenders, programs for buying a rural property, and more.
Why Do People Buy Land in Texas
The Lone Star State contains approximately 172 million acres of land. It is home to King Ranch, the largest farm in the country, with 825,000 acres of agricultural-use land. It also has more farms than any other U.S. territory.
So, many people may think of a place to buy farming land, but there are many other reasons people purchase land in Texas. For example, it is a popular place for hunting leases, outdoor experience adventures, horseback riding, and investing.
Steps to Buy Land in Texas
The steps for buying land in Texas are similar to those you would follow in any other state. Review the steps below before you get started to better educate yourself on the process of buying rural land.
1. Determine How Many Acres You Need in Texas
If you are buying a piece of property for a specific use, you need to ensure that the property is the correct size. If you plan to build a business, like a self-storage or mini-storage on the property or develop the land into a specific number of individual lots, you must account for that.
When building a shopping center, you need an acre per every 15,000 square feet of rentable shop space. A self-storage or small manufacturing business will likely require between two and three acres of land.
For farming, the Texas Land Board has land criteria a farm or ranch must meet for consideration under specific designations. For example, small farms and ranches operate on a property of 100 acres or less that has been producing crops for less than five years.
Suppose you want to use government grants to improve a piece of land for farming or for consideration in a specific government program that award benefits to Urban Agriculture and Innovation Production (UAIP). In that case, you must ensure your property fits those program requirements.
Set a Budget
After determining the acreage you need, you are ready to set a budget. The budget should include at least a 20 percent down payment for land purchases. You also need to factor in costs for equipment and other necessities you will need for your land, depending on your use.
Secure Financing
Next, you need to secure financing. Loans for residential real property differ from agricultural loans and typically require more of a down payment. However, several banks in Texas specialize in financing agricultural property and farming businesses.
A lender that focuses on land financing is an excellent place to start because they are aware of government incentives for first-time farmers and may be able to help you find a down payment assistance program or grant.
Other financing options you may be able to utilize for land purchases include:
USDA Loans
Texas Veteran's Land Board
SBA Loans
Personal Loans
Home Equity Line of Credit (HELOC) or Cash-Out Refinance
Private Money Loans
Find Property 
After you receive a pre-approval letter from your chosen lender, you are ready to locate properties. At this time, you may want to start working with a buyer's agent who knows about land sales in Texas. However, you can locate properties on your own as well.
Lands of Texas and Land Watch are two excellent resources for locating land. Both have filters for owner-finance deals. Being able to find for sale by owner (FSBO) properties
Make an Offer
If you still haven't hired a buyer's agent, you should before you make an official offer. The seller pays the buyer's agent fees in closing, so there is no reason not to work with a knowledgeable realtor.
Your agent will draft a purchase contract with the information you provide and submit it on your behalf to the seller's agent for consideration. They will also help to ensure that your closing takes place on time, and they will help you with determining whether or not a specific property is appropriate for your use.
Do Due Diligence
Due diligence is a critical aspect of all land and real estate purchases. Due diligence for rural land includes having a title company do an exhaustive title search to determine land use and mineral rights ownership.
If the land is in an area that produces oil and gas, the previous owner may have sold mineral and surface rights to a drilling company years before they list their tangible land. Even if you do not care about acquiring the mineral rights to your land for the potential benefit of collecting on them if an energy company decides to drill for oil or natural gas. So, you want to know if anyone else has the legal right to access the land you are buying.
Close at a Texas Title Company
Even if you are buying a relatively inexpensive tract of land in Texas, you need to close at a Texas escrow office and request title insurance. Title policies are typically more costly for rural properties, especially if the title company has to send someone to the county recording office to check accurate property records manually.
Nevertheless, buying property without title insurance will leave you susceptible to heirship and common law claims in the future, as well as liens against the property for debts owed by previous owners.
How Do You Get a Loan for Rural Land in Texas?
When none of these options works, you may be able to get financing through the property seller. Several reputable land sites allow you to pull properties that list owner-financing as an option. So, finding these deals is more accessible than most people think.
USDA Loans
A USDA loan might be a good option if you buy a rural property with a few acres and a single-family dwelling. However, to qualify, you must live in the property as your primary residence and meet low-income thresholds.
Texas Veteran's Land Board 
The Texas Veteran's Land Board is an incredible resource for veterans looking to buy land in Texas. It offers low, fixed interest rates and loans with as little as five percent down.
SBA Loans
The Small Business Administration (SBA) offers loans for businesses to purchase land, improve properties, buy equipment, and other business expenses. SBA loans may require a lower down payment than some alternative loan options.
Private Money Loans
Private money loans are available through private investors. These loans often carry a higher interest rate. Some may be temporary, lasting a year or two just to give you time to find a replacement lender to finance the property on a long-term basis. If the rate is fixed during the initial period, there is typically a balloon payment.
If you decide to use a private money loan, be very diligent about finding a long-term lender as soon as you close. Putting it off could leave you in a desperate position at the end of the private money loan term.
Personal Line of Credit
A personal loan could be an option if your credit is good enough and you have a portfolio of solid assets. However, these loans are typically more carefully scrutinized by lenders because they are not secured by real property.
HELOC/Cash-Out Refinance
If you own a home with positive equity, you might be able to borrow against your equity to finance your land. Make sure you are comfortable with the payment and loan terms if you use a HELOC. You do not want to risk losing your primary residence.
Land Financing Banks
For non-military rural investors, lenders like Texas Farm Credit can help you determine which product is right for you and any applicable grants you can utilize to purchase a property. They also offer loans for farming equipment and improvements, crop insurance, and other valuable financial products. Plus, they have a wealth of information about land in Texas.
What You Need to Know About Buying Land in Texas
You need to consider a few factors when purchasing a rural property. However, the exact information you need to look for varies depending on your intended use for the property.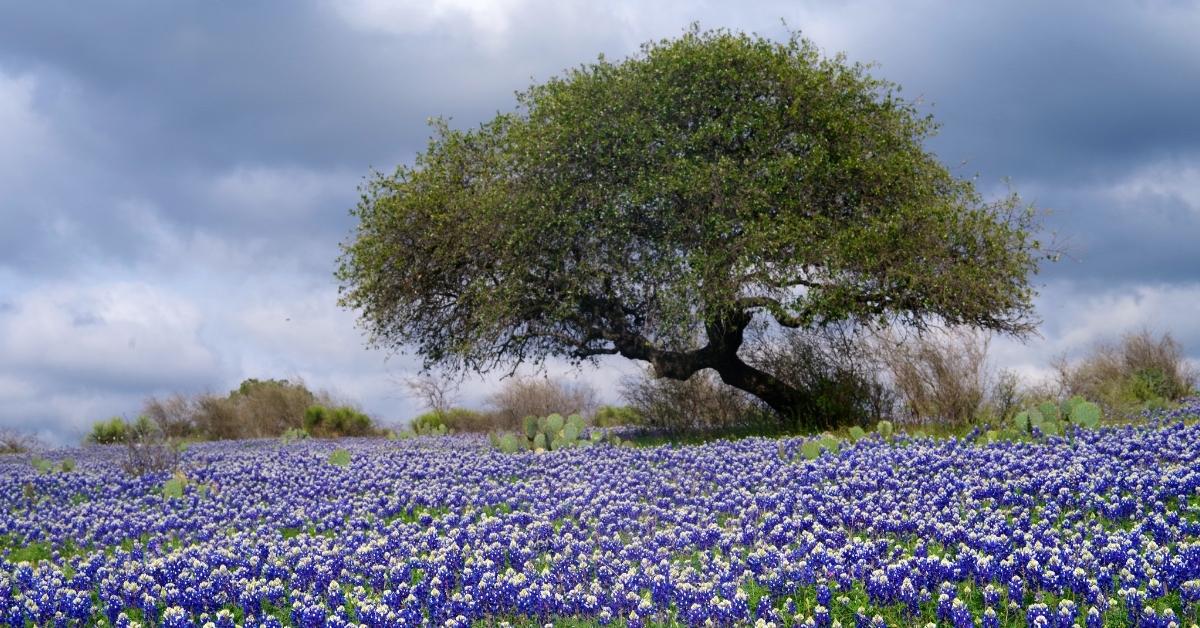 Elevation
Elevations change dramatically throughout the state, from sea level by the coast to more than a mile in the mountainous regions. The elevation is not a significant concern for some buyers. Still, if you need or want a property with a particular height, you must check topography maps to determine which properties fit your intended use.
Soil Composition
Soil composition is a significant concern if you plan to farm or raise animals on your land. Some parts of Texas contain too much rock, clay, and sand to make growing crops possible. So, you must check the soil composition reports for a property before you buy it.
Mineral Rights
If you want to buy land in Texas because you are hoping to acquire mineral rights, you will need to look and have your title company pull a chain of title dating back to the last sale of mineral rights for the land. These properties are available in towns along the fault lines in Texas. You do need to prepare yourself to pay significantly more for a piece of land where the owner is willing to convey mineral rights.
Deed Restrictions
If you want to develop land, you need to make sure there are no deed restrictions that prevent development. Most rural areas are restriction-free, but you must verify before buying. Otherwise, you might end up with acres of unusable land that may take years to sell.
Pros of Buying Land in Texas
Texas has always been one of the most desirable areas in the country to purchase rural land. The factors that make Texas land a good option include proximity to water, differing elevations,
Plenty of Options
Texas is the second-largest state in the country after Alaska. You can fit fifteen of the smallest states in the U.S. in the nearly 270,000 square miles that make up the Lone Star State. So, you should find a piece of property that fits all of your buying criteria.
Beautiful Natural Features
You can find property in Texas with stunning natural features like waterfalls, creeks, rivers, lakes, caves, hills, and mountains. Almost every Texas property offers unique characteristics that make it desirable for people who want to own a unique property.
Close Proximity to Water in Most Areas
Proximity to a source of water is vital on rural land. With 150 major lakes in Texas and hundreds of smaller lakes, creeks, and freshwater rivers, you are never far from the water needed to grow crops or plumbing.
Rural Land with Proximity to Major Cities
Rural land is just a short drive away, even in the most heavily populated urban centers. For example, there are dozens of small towns between Houston, San Antonio, and Austin. It only takes 2 1/2 hours to drive from Houston to Austin and 3 1/2 hours from Houston to San Antonio. Between these major cities, there are thousands of acres of undeveloped land.
When you buy a property between two or more large metropolitan areas, you have plenty of options for shopping and buying supplies.
Owner-Financed Land
Not only does Texas have an incredible amount of land, but there are opportunities for potential buyers to finance their purchase through the individual land owner. It is not uncommon for landowners to advertise owner financing on listings.
Cons of Buying Land in Texas
While land in Texas is an excellent investment, there are some things you need to keep in mind when you are deciding which property to purchase.
Low-Rated Schools
The quality of many schools in rural Texas towns leaves much to be desired by land buyers with families. Because the population is across the state, some small towns don't have a large enough population of school-aged children to make investing in education a significant priority.
Extreme Weather
Most of the Lone Star State experiences extreme weather occasionally. However, in the coastal region, storms are a significant concern. Some parts of the panhandle and towns on the Louisiana-Texas border are also at risk for tornados, hail storms, severe thunderstorms, and other undesirable weather events.
Most of the state also experiences blistering heat over the summer months and freezing weather during the winter.
Inadequate Healthcare and Public Services
The size of Texas and the remote location of some properties make it nearly impossible to access top-rated healthcare and public services. So, many people have to move to cities as they age because there is not a great network of hospitals in rural communities.
High Prices in Desirable Locations
Many of the best properties in the state are $10,000 to $20,000 or more per acre. The locations where you can buy land for $1,000 an acre are close to the Texas-Mexico border, and there are significant safety concerns in some of these locations.
Too Many Options
While it is great to have options, choosing an area to buy rural land in Texas can be challenging because there are so many places to look.
Sales are Slow
With so many plots of land available in Texas, if you want to sell your property, it will likely take much longer than selling residential property in a neighborhood. So, when you buy land, make sure that you love it.
Where are the Best Areas to Buy Land in Texas
When you are buying property in a state that is more than 50,000 square miles larger than France, it helps to know where to look for different types of land.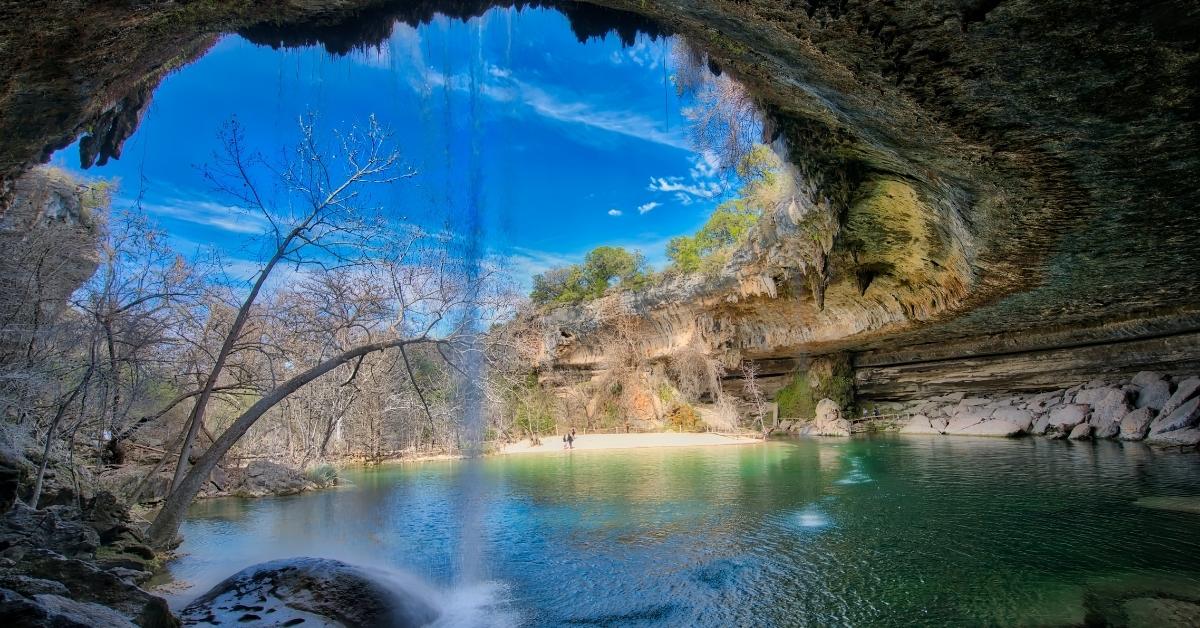 Bargain Land in Texas
The least expensive land in Texas is in the far west region and the south plains closest to the Texas-Mexico border. You can also find low prices near the panhandle. In these areas, large tracts of land average less than $1,000 per acre.
Beautiful Land in Texas
There are several locations in Texas with breathtaking views. The west region of the state has picturesque desert plains and mountain ranges. The Hill Country is a gorgeous area in central Texas with varying elevations and numerous lakes.
Valuable Land in Texas
Regarding value, the land closest to the major cities appreciates the fastest. If you want to invest in land that will appreciate, look for properties between two or more major cities. For example, there are numerous small towns with farms and ranches between Houston, San Antonio, and Austin.
There are also some desirable areas between Austin and Dallas. These are the best areas to purchase land because these cities will continue to grow. The land between those cities will continue to appreciate as the towns around them expand.
Farm Land in Texas
If you want to farm on your land, the Rio Grande Valley is an excellent place to grow crops like sugar cane and citrus trees. Central Texas is another desirable place for farming. Cotton, corn, rice, wheat, and feed grains, are the major crops in the region. However, many other crops are also grown there.
Ranch Land in Texas
There are ranches throughout the state. If you want to raise cattle, the eastern half of the state provides more lush vegetation, reducing your feed expense. In the western region of Texas, the land is more suitable for goats, sheep, and smaller animals that can navigate rocky terrain.
Land in Texas to Develop 
Land near Texas' major metropolitan cities is in high demand for developers. You can also find properties with acreage in Houston and Dallas or a few miles outside the city limits. Any property close to heavily populated towns is suitable for development projects.
Land in Texas Near Major Cities
You can find numerous land deals around all of the large cities in Texas. However, buyers should check out a few small towns before committing to a property. Below is a list:
Llano
Bourne
Sommerville
Dime Box
Lampasas
Menard
Corsicana
Hillsboro
Mt Pleasant
Columbus
Navasota
Land in Texas for Hunting Leases
There are 327 hunting leases in Texas. However, the best properties for hunting leases are those with various games available. Deer and wild hogs are abundant throughout the state, but Menard, Hall, Kimble, and McCullock counties all have turkey, quail, small game, and exotic game.
Most Expensive Land in Texas
In 2017, Veale Ranch, a 3,790-acre property located just 11 miles from downtown Dallas, sold for $95,000,000. The property is not the most expensive listing in the Loan Star State. However, the $25,000 cost per acre is staggering compared to other Texas land deals.
Coastal Land in Texas
There are 3,359 miles of beachfront property in Texas. Hundreds of miles of land between major developed coastal cities. So, you can find decent deals on acreage in some areas. One of the most desirable beach communities to buy acreage is Crystal Beach near Galveston, TX, where land is around $10,000 per acre.
Back-to-back hurricanes leveled Crystal beach more than ten years ago, and many homeowners chose not to rebuild there. While there is a significant risk of storms along the Gulfcoast, if you are looking for a recreational property to ride horses or ATVs and get away from the city with your family, Crystal Beach might be an excellent place to look.
Lakefront Land in Texas
There are more than 150 large recreational lakes in Texas. Some offer waterfront lots or land, while others are primarily protected land with a few businesses. Some of the most popular lakes in Texas for home and land buyers are Lake Travis, Lake Livingston, Marble falls, and Canyon Lake.
Out of these, Lake Livingston and Canyon Lake both offer relatively affordable waterfront property. Both offer attractive water views, but Canyon Lake has beautiful clear blue water and freshwater beaches.
Mountain Land in Texas
The far west border of Texas is home to Guadalupe Mountain Range, with breathtaking views. Some of the cities with mountain views are:
Dell City
Sierra Blanca
Van Horn
Pecos
El Paso
Fort Bliss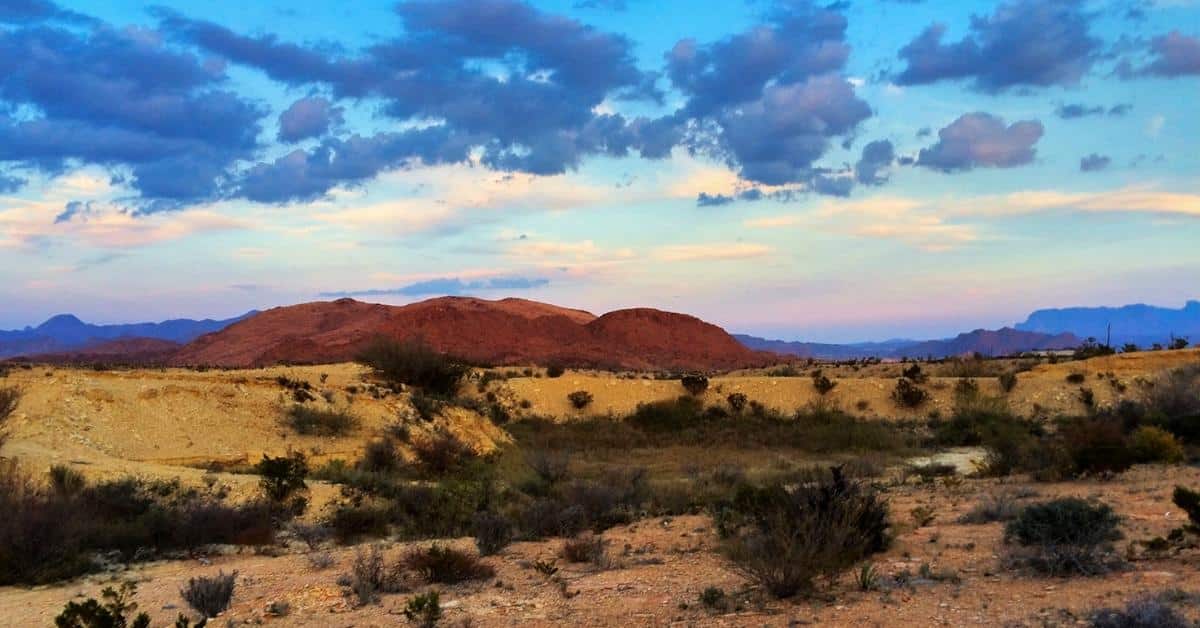 How Much is Land in Texas?
The price of acreage in Texas varies as much as the terrain. You can buy land for less than $1,000 per acre in the westernmost region near the Guadalupe Mountains. The average price per acre in the Gulfcoast part of the state is $11,675. In Harris County, the home of Houston, the state's most populated city, the average price per acre is $21,000.
FAQ About Buying Land in Texas
Read the FAQs about buying land in Texas and the answers below to learn more about buying land in Texas.
How Much Do You Have to Put Down to Buy Land in Texas?
The standard down payment for land purchases is at least 20 percent of the sale price. There might be higher limits for some loan products.
For veterans, Texas Veteran's Land Board offers loans with low fixed rates for as little as five percent down. SBA loans may also allow down payments of as little as ten percent.
How Much Does an Acre of Land in Texas Cost?
In 2021, Texas's average cost of rural land rose by 29 percent. It is the most significant increase in the average price per acre in the state's history, bringing the cost up from $3,064 per acre to $3,954. However, properties in the state range from under $1,000 per acre to over $25,000 per acre.
Is it Wise to Buy Land in Texas?
Considering that the average per acre price has risen from $209 in 1971 to $3,954 in 2021, investing in land in Texas is a sensible decision.
How Many Lots are in an Acre? 
There are around eight 5,500 square-foot residential lots on an acre. However, to build a small community, you must factor in space for driveways, roadways, and infrastructure.
Where is the Cheapest Land in Texas?
The cheapest land in Texas is on the southern and west borders. Sierra Blanco offers numerous 20-acre tracts for less than $20,000.
Are You Ready to Buy Land in Texas?
Texas is an incredible place to live, and buying land in the Bluebonnet State is a sound investment decision. Last year the average price per acre increased by 29 percent. That means, that if you invested $100,000 to purchase land in Texas, in 2020, your property could be worth tens of thousands more in just one year.
There are still a few desirable places where you can purchase land for great prices. However, you shouldn't wait long. While there is no shortage of land in Texas,